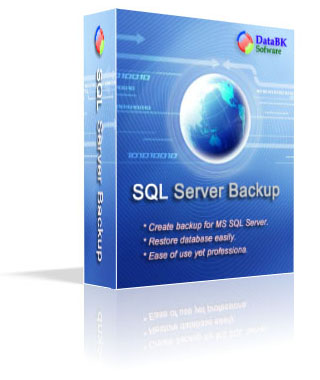 View Screenshot
Walkthroughs
( 2018.12.16 update )
     SQL Server Backup is an easy to use backup and restore utility for Microsoft SQL Server 2012, 2008, 2005 backup and restore, 2000, 7.0, MSDE , WMSDE , both desktop , express and enterprise editions.
     It is able to create popular *.7z , *.zip , *.bk  backup file. You can backup easily in different backup software or management studio. (new).
     It backs up SQL Server database to local hard disk or network storage device ,and restore database with a new name or move database files to a new location , restore database to the point of failure .
     It supports data compression and encryption . It's user-friendly wizard and flexible design enable you backup and restore SQL Server database without deep knowledge of SQL Server.
Why SQL Server Backup
Creates 7z, zip , .bk

backups

, easily use these backup in different backup software.

Ease of use yet professional

step-by-step wizard

interface. No DBA experience required.

Create backup for MS SQL 2015, 2012, 2008, 2005, 2000, 7.0, supports desktop , express , professional and enterprise edition.
Built-in SQL database restore function, restore multiple databases in a single job.
Supports transaction log-shipping. This feature let you copy database between servers easily.
Compress and AES 256 bits encrypt backup data on the fly, no

temporary

file created.
Verify backup after job, clean expired backup after job. (

Since year 2005 ,v1.0

)

Email confirmation after job. (Since year 2005 , v1.0)
High performance and reliable . Firstly released in 2005 and thousands of users all over the world are using this ms sql backup software.
Feature of SQL Server Backup
Creates popular *.7z, *.zip  and *.bk

backups

, easily use these backup in different backup software

.

(new)

.
 
Copy mode backup supported.
 
Microsoft SQL Server 2012 backup and restore supported in v10.4.0 

(new)

.
 
All versions of Microsoft SQL Server backup and restore supports: Microsoft SQL Server 7.0, Microsoft SQL Server 2000 , Microsoft SQL Server 2005, 2008 supports, MSDE, WMSDE, SQL Server 2005, 2008, Microsoft SQL Server 2012, both desktop, express and Enterprise Edition.
 
Remote management supports.
 
Log shipping supports in professional edition.
 
Flexible backup strategies supports , basic on backup counter or backup size.
 
More flexible email notification option.
 
It can be configured to do extra command ,works before or after job.
 
Copy database from one server to another by creating backups automatically in professional edition.
 
More easy to restore database to a refresh machine or other server in professional edition.
 
Convert DataBK backups to Microsoft SQL Server raw backups.
 
Multiple users supports.
 
Multi SQL Server instance supports.
 
Remote Storage Server run as service.
 
Supports database full and differential backup and transaction log backup.
 
Data compression supports.
 
AES encryption supports.
 
Backup to local hard disk , USB removable disk or remote network driver .
 
Restore database with a new database name.
 
Restore database to a point in time.
 
Restore database to point of failure.
 
Force to replace the existing database and its related files .
 
Restore or move database files to new location.
 
Customize recovery completion state : recovery , no recovery , read only access.
 
Multi-task run on the same time.
 
Job running methods: demand and schedule.
 
Working log records detail.
 
Email notification. When you create a SQL Server backup or restore job ,you can specify who will receive a notification email after the job is complete, this mail records detail information that generated in the course of job running.
 
Simple and easy to use